Past Forward by Chautona Havig
April 19, 201
Alone without friends or family to comfort her after the death of her mother, Willow Finley's idyllic life is over—and just beginning.
The Finley women's lives, while rich and full, aren't easy. Rejecting electricity and many other modern conveniences, they live purposefully and intentionally–alone and isolated from the world around them.
When Willow Finley awakes on a hot summer morning, she is unprepared for the grief that awaits her. Jerked from a life of isolation with her mother, Willow learns what alone really means when she finds her mother dead.
From the moment Willow arrives in the police station with her startling announcement, Chad Tesdall fights the friendship he knows he can't avoid.
The Past Forward series opens with Willow's life-changing discovery and gently guides the reader through aspects of her life–the past weaving through the present and into the future. Experience her first morning in church, her first movie, and the culture shock of her first trips to the city. A birthday party and a street faire add welcome diversion from butchering, canning, and the beating of area rugs. Disaster strikes. Will she choose to continue her simple life, or will an offer in the city change it all? Find out in this first volume.

My Review
Past Forward begins rather startling. When Willow Finlay walks into the police station, you don't really expect her reason for being there. Not exactly. The story continues on with rapt attention from there.
This is another book that I have read more then once. Actually, I've read every volume. I first read it years ago and parts of it are ingrained into me, like any other good book.
I like Willow. She's different, but that's one of the things that keeps you wanting to find out what she's going to do next. There are times that I find the reactions of the people around her to be a bit tiresome, but not enough to make me want to put the book down.
Chad, I quite liked, though there are a few times I want to shake him. But, since I want to do the same to Willow at times, I suppose that's not much of a complaint. I do like his character development a good deal – though I shall never reconcile my mental picture of him to the buzz cut that he apparently has.
Overall, I found the first volume of Past Forward well written, filled with interesting characters, and worth a reread. You will likely find your interest peaked to move onto Volume 2. I would recommend this book.
Giveaway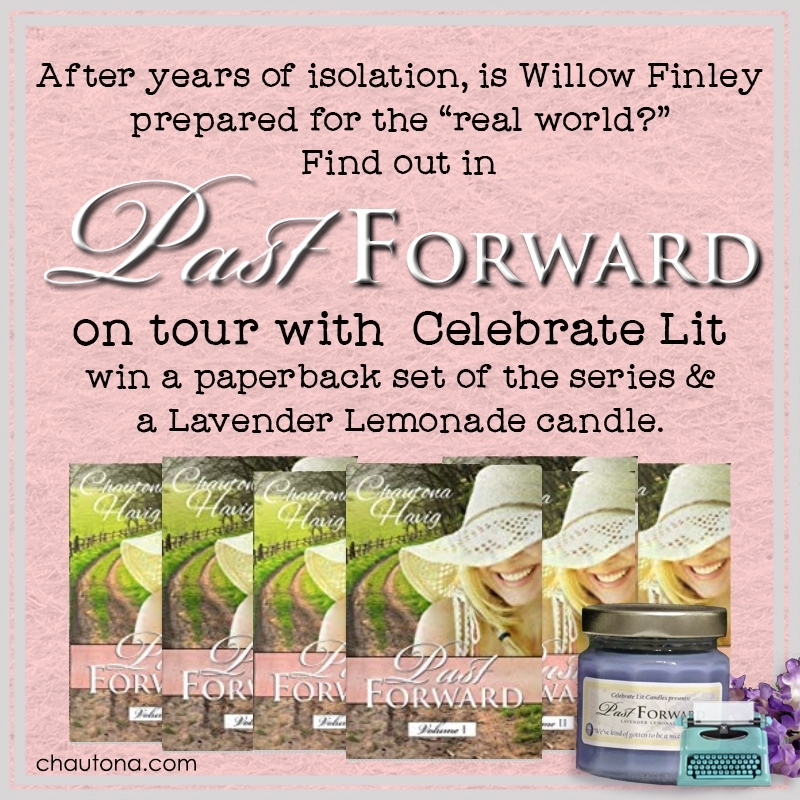 To celebrate her tour, Chautona is giving away a grand prize that includes a complete paperback set of Past Forward & a custom Past Forward Lavender Lemonade candle!!
Be sure to comment on the blog stops for nine extra entries into the giveaway! Click the link below to enter. https://promosimple.com/ps/e319/past-forward-celebration-tour-giveaway
Blog Stops
Through the Fire Blogs, May 15
A Reader's Brain, May 15
Godly Book Reviews, May 16
Abba's Prayer Warrior Princess, May 17
Debbie's Dusty Deliberations, May 17
Blogging With Carol, May 18
Inklings and notions, May 18
Bigreadersite, May 19
Truth and Grace Homeschool Academy, May 19
All-Of-a-kind Mom, May 20
Texas Book-aholic, May 20
Aryn The Libraryan, May 21
Quiet Workings, May 22
Retrospective Spines, May 22
Inspired by Fiction, May 23
Carpe Diem, May 24
For Him and My Family, May 25
janicesbookreviews, May 25
Book Bites, Bee Stings, & Butterfly Kisses, May 26
Rebekah's Quill, May 27
Inspiration Clothesline, May 28
About the Author
Chautona Havig lives in an oxymoron, escapes into imaginary worlds that look startlingly similar to ours and writes the stories that emerge. An irrepressible optimist, Chautona sees everything through a kaleidoscope of It's a Wonderful Life sprinkled with fairy tales. Find her on the web and say howdy—if you can remember how to spell her name.
Tot the KING be all the glory!