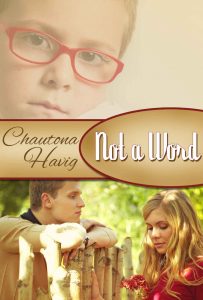 Not a Word by Chautona Havig
Originally Published in 2013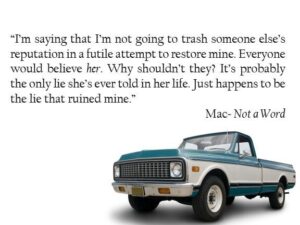 Words have power. Add a solid reputation behind those words, and they have the power to destroy.
It began with a lie.
Mac's life changed irrevocably with a false accusation. Blissfully unaware of the carnage she left behind when she moved from Brant's Corners, Savannah Forrester is back and when Mac sees her at church–with a boy–he wants answers.
For eight years he's lived under the cloud of her accusations–without defending himself. He kept her secret. He endured the shame and the life-altering consequences.
Savannah can set the record straight. Mac says no. The ultimate question remains: what is best for Rory.
And who is Rory really?
The Characters and Story:
This book is one of my favorites. I have read several by Chautona Havig and this one tops them all. (Though the Alexa Hartfield Mysteries do come in as a somewhat close second.)
Mac is a great character. I love watching him grow, as he starts out shielding the woman who he loves, which leads to his friend using his selflessness as an opportunity to witness. His growth from a slightly arrogant kid to mature man is very well done.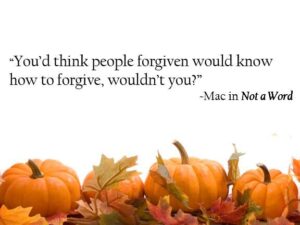 Savannah is also well done, though I admit, I got mad at her a few times. She feels rather insecure, but that's understandable given her circumstances. I don't dislike her; I just don't like her as much as I do Mac. She is a good example of a Christian, who has never really been tested on their beliefs, and thinking that she was strong, she fell. "Therefore let him who thinks he stands take heed that he does not fall." 1 Corinthians 10:12.
Mrs. Havig did well writing a character that stood out as funny, but adorable. That character is Rory. There are a few times, when he couldn't seem to stop talking, but that's forgivable, considering he's just a kid.
As to the minor characters, they were varied and colorful as I've come to expect from Chautona Havig's books. I loved Aunt Clara, Savannah's best friend, Gene, and the appearances by Luke, Aggie, and several of the other characters from the Aggie's Inheritance Series.
A Few More Thoughts:
This book is a good illustration, as I stated earlier, of a Christian being tested on the strength of their convictions, but also the consequences of sin, and how God can take even sin and make something beautiful out of it. Fiction or not, I find this book encouraging in that last aspect – because I know my LORD does, indeed, work in that way.
Cautions:
The only caution I would give, is if you were going to give this book to a younger reader. I would suggest this book only be given to those sixteen and up, simply because of the topic. It was, however, handled with tact and discretion, which I appreciate.
I would highly recommend this book.
To the KING be all the glory!