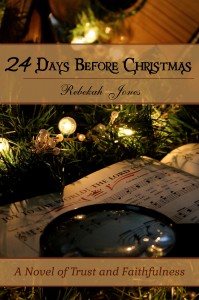 It's here! My Christmas mystery, 24 Days Before Christmas, is published and now available!
December has fallen on the tiny town of Poinsettia and, with it, the Christmas season. The Singh and Winter families are already feeling celebratory, as they begin sharing family traditions and memorizing Christmas carols.
Things take a decidedly unexpected turn, when their neighbor and good friend, Ebenezer Bell, comes home from vacation and can't find his brother. Blood on the carpet, an absent vehicle, and missing fingerprints start to point the finger at a possible crime.
When James Hoffman moved his sister and daughter to Poinsettia with the bright idea of opening a bookshop, he expected things to be tight, but not this tight. The readers of Poinsettia seem to be few and far between, and James is beginning to second guess his decision. His sister insists on trusting the God that he doesn't even believe in, but when he discovers an old enemy, bringing his buried anger back to the surface, even his sister's trust is shaken.
Carols and crime, memories and mystery, doubters and danger – will there be a merry Christmas after all?
It's been five years, almost to the exact day, since I first wrote the opening lines for 24 Days Before Christmas. Five years. This book has been written, rewritten, torn apart, and added to so many times that, in some ways, it doesn't even resemble it's original version. That first line, however? Paragraph really. It no longer opens the book, but it survived all those revisions, ending up, instead, in the middle of my second chapter. It's still one of my favorite passages from the book.
I did something different with this book. Even though it happens to be my longest novel, there are only 25 chapters. One for each day of the month of December, leading up until Christmas, and then one for December 25th. This book was so fun to write, but difficult as well. It also takes place in a new setting from my other books. 180 miles out from my fictional town of Halcer, is Poinsettia. A fitting place for a Christmas mystery, don't you think?
– – –
In honor of Black Friday and Cyber Monday,
24 Days Before Christmas
will be on sale for Kindle through Tuesday, December 1st! If you'd like to get a signed copy of this book, or any of my others for Christmas, I'm taking orders until December 15th!
24 Days Before Christmas
is $11. Go to my
Sale Page
to see the prices for my other books!
To the KING be all the glory!
Save