Murder in the City of Liberty by Rachel McMillan
Released May 21, 2019
Hamish DeLuca and Regina "Reggie" Van Buren have a new case—and this one brings the war in Europe dangerously close to home.
Determined to make a life for herself, Regina "Reggie" Van Buren bid goodbye to fine china and the man her parents expected her to marry and escaped to Boston. What she never expected to discover was that an unknown talent for sleuthing would develop into a business partnership with the handsome, yet shy, Hamish DeLuca.
Their latest case arrives when Errol Parker, the leading base stealer in the Boston farm leagues, hires Hamish and Reggie to investigate what the Boston police shove off as a series of harmless pranks. Errol believes these are hate crimes linked to the outbreak of war in Europe, and he's afraid for his life. Hamish and Reggie quickly find themselves in the midst of an escalating series of crimes that seem to link Boston to Hamish's hometown of Toronto.
When an act of violence hits too close to home, Hamish is driven to a decision that may sever him from Reggie forever . . . even more than her engagement to wealthy architect Vaughan Vanderlaan.
My Review
Murder in the City of Liberty fulfilled my hopes of a good mystery. The twists and turns kept my attention, and while I did solve it before the protagonists, I didn't get bored or tired of the story.
I enjoyed the main characters, especially Hamish, but I found a few of the relationship bits annoying. Particularly, the love triangle. But I never care for those; they annoy me. I may also state here that I did not read Book I of this series, but the book did well as a standalone. I do think a few things with Hamish and his cousin would have been fleshed out, as well as Regina and Vaughan, if I had, but I never really felt at a loss. The author added just enough backstory to make things clear without overdoing it or making the story boring.
The author did an impressive job at writing a character with a tendency toward anxiety and panic attacks, while not portraying them as merely weak. Hamish is a likable character, very good at reading others, capable of doing his job, and he struggles through his physical difficulties bravely.
My biggest disappointment with this book is that I went into it expecting a Christian book. The publisher is a Christian one and when I picked up the book, I had the impression that the book would be Christian as well. I read the entire mystery waiting for the Christianity to appear in an obvious fashion, but it never did. There were subtle hints – Hamish goes to the North Church when he is upset and there is a reference to his father speaking a sentence about God – but nothing obvious enough to be clear. Now, Nate, Hamish and Regina's best friend, has a strong and obvious Jewish faith. We see that played out without being overdone, but it is very clear what he believes. Anything Christian, however, I found too subtle to really know anything certain about it.
Don't get me wrong, I enjoyed the book. A lot. I'll probably even read the first one. The lack of obvious faith or any reference to Christ disappointed me the most out of anything. I can hope that, perhaps, in future books of this series that element will be fleshed out and become stronger. I don't know. We'll have to see.
Overall, I would recommend this book, but wouldn't promote it as a Christian one, but a well-written, clean mystery.
Giveaway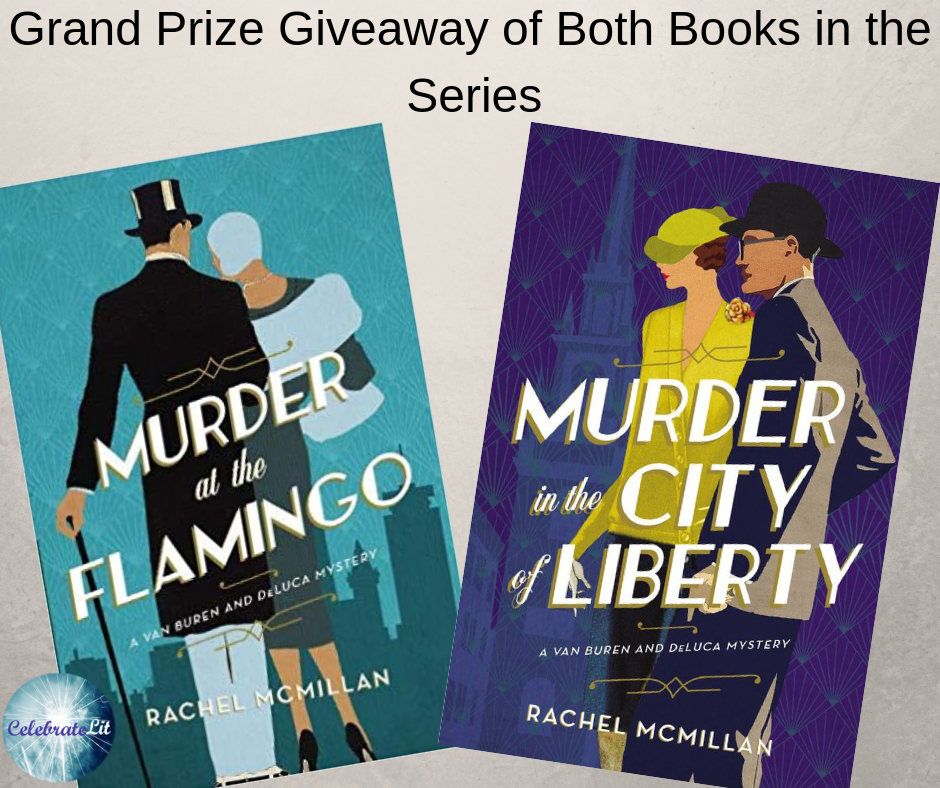 To celebrate her tour, Rachel is giving away a grand prize of both book in the series!!
Be sure to comment on the blog stops for nine extra entries into the giveaway! Click the link below to enter. https://promosimple.com/ps/e513/murder-in-the-city-of-liberty-celebration-tour-giveaway
Blog Stop
Just the Write Escape, June 11
Simple Harvest Reads, June 11
The Power of Words, June 12
amandainpa, June 12
As He Leads is Joy, June 13
Fiction Aficionado, June 13
Through the Fire Blogs, June 14
Carpe Diem, June 14
Moments, June 15
The Christian Fiction Girl, June 16
Have A Wonderful Day, June 16
Cordially Barbara, June 17
Rebekah's Quill, June 17
All-of-a-kind Mom, June 18
Hallie Reads, June 18
Bigreadersite, June 19
Connect in Fiction, June 19
Blogging With Carol, June 20
Truth and Grace Homeschool Academy, June 20
For Him and My Family, June 21
Remembrancy, June 21
Pause for Tales, June 22
Debbie's Dusty Deliberations, June 22
Godly Book Reviews, June 23
Texas Book-aholic, June 23
janicesbookreviews, June 24
A Reader's Brain, June 24
Inklings and notions, June 24
About the Author
Rachel McMillan is a keen history enthusiast and a lifelong bibliophile. When not writing or reading, she can most often be found drinking tea and watching British miniseries. Rachel lives in bustling Toronto, where she works in educational publishing and pursues her passion for art, literature, music, and theater.
To the KING be all the glory!