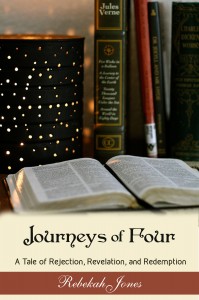 Journeys of Four. When four young people, walking down completely different paths in life, are confronted with what it means to truly be a Christian, they are faced with either repentance and redemption, or a complete rejection of their faith.

Today, until Wednesday, September 30th, Journeys of Four will be on sale for $.99 for Kindle! Click HERE to visit Amazon!
Also, it's been a long time since I've done a giveaway. Almost a year, I believe. This time, I'm doing a double giveaway. The first winner will receive a $10 gift card for Amazon. The second winner will receive a signed, paperback copy of Journeys of Four. Enter from now until the 30th by doing any (or all) of the options below! LORD willing, the winners will be drawn and announced on Thursday!
Leave a comment letting me know that you did any of the following:
-Review any one of my books on Amazon. (Click HERE to see a list of all my published books.)
-Follow me on Facebook.
-Follow me on Twitter.
-Share this post on Facebook.
-Share this post on Twitter.
Each option is worth one entry.
Have fun! I hope you enjoy reading Journeys of Four, half as much as I enjoyed writing it!
To the KING be all the glory!