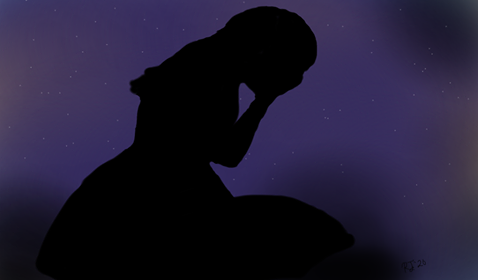 Hopelessness. I've felt it. I've lived with it. I've witnessed it practically sucking away my life.
Hopelessness is like a black hole. You discover it, sometimes where you least expect it, then the closer you get, you watch it consume and absorb every spark, every light, every bit of joy that you have.
It's much like depression. Whether Hopelessness results in depression, is a bi-product of depression, or is synonymous with depression, I don't know for certain. Having experienced both, I am inclined to believe that they are different, though often connected. I've been hopeless without being depressed, but it generally (or always) leads there, unless it's contained in time.
Webster's 1828 describes Hopeless as, "Destitute of hope; having no expectation of that which is desirable; despairing."
It's a dark and grievous place, draining to the mind, body, and soul. As I noted, I've been there.
The opposite of Hopelessness would appear to be Hope. The 1828 describes it thus: "A desire of some good, accompanied with at least a slight expectation of obtaining it… Confidence in a future event…"
"A desire of some good…" This may be the one point where Hopelessness and Hope agree. No matter my despair, I often desire some good. I merely have "no expectation of that which is desirable." However, in Hope, this desire is "accompanied with at least a slight expectation of obtaining it."
This world is very unreliable. It may even seem moreso in our current times than usual. People, events, plans, dreams… Often we face all of these things with hope, but there can come a time when we're disillusioned. People will leave us, forget us, drop us on their priority list, if we were ever there in the first place. Events will get cancelled. Plans will fall through, despite our hard work. Dreams will turn to mist. I look at these things and the black hole grows. It's hopeless. "Why even try? It would be better to push people away, connect to as few people and places as possible, lock myself into my own little bubble, stop dreaming, and cease to try again with anything. Because life is hopeless."
But. It isn't.
Life is not hopeless, because, despite my forgetful mind, despite the lies I hear in my head, I do truly "desire some good with at least a slight expectation of obtaining it." And it all stems from one place. My Father sent His Son, Who voluntarily suffered an awful death on the cross that He might redeem me from my sins. He rose on the third day, conquering all. I have this Hope that He claimed me and bought me with the shedding of His blood. I belong to Him.
C.S. Lewis said, "Look for yourself, and you will find in the long run only hatred, loneliness, despair, rage, ruin, and decay. But look for Christ and you will find Him, and with Him everything else thrown in."
"Why are you in despair, O my soul? And why have you become disturbed within me? Hope in God for I shall again praise Him for the help of His presence." (Psalm 42:5) The psalmist here continues by telling the LORD that he is in despair, but because of it he will remember the LORD and His works. Mightn't I, oughtn't I, to do the same?
Even if "my soul is bowed down within me" and the trials of this world threatens to consume me, may this I "recall to my mind, therefore I have hope. The LORD's lovingkindnesses indeed never cease, for His compassions never fail. They are new every morning; great is Your faithfulness. The LORD is my portion… Therefore I have hope in Him."
His lovingkindness will never cease, He has redeemed me… In these I have Hope. Much like Christian, when he recalled to mind the Key of Promise that would release him from the dungeon of Giant Despair. Life may be difficult, but God "causes all things to work together for good to those who love God, to those who are called according to His purpose." In this also, I have Hope.
Paul says that he considered "the sufferings of the present time are not worthy to be compared with the glory that is to be revealed to us." (Romans 8:18) Might I not find Hope in this as well?
"Confidence in a future event…" In what future event could I have more confidence than in the promises of our LORD? "…and lo, I am with you always, even to the end of the age." (Matthew 28:20) Always. The LORD will be with me in the future – even to the end of the age. That brings Hope. One day, I , as one whom He has redeemed, will go to be in His presence forever. That brings even more Hope.
"Be strong and let your heart take courage, all you who hope in the LORD." Psalm 31:24. Be not cast down in hopelessness, oh my soul! Anchor yourself in the LORD and His promises, the only true Hope in the world, and the black hole of Hopelessness will never be able to consume you.
To the KING be all the glory!