December has fallen on the tiny town of Poinsettia and, with it, the Christmas season. The Singh and Winter families are already feeling celebratory, as they begin sharing family traditions and memorizing Christmas carols.
Things take a decidedly unexpected turn, when their neighbor and good friend, Ebenezer Bell, comes home from vacation and can't find his brother. Blood on the carpet, an absent vehicle, and missing fingerprints start to point the finger at a possible crime.
When James Hoffman moved his sister and daughter to Poinsettia with the bright idea of opening a bookshop, he expected things to be tight, but not this tight. The readers of Poinsettia seem to be few and far between, and James is beginning to second guess his decision. His sister insists on trusting the God that he doesn't even believe in, but when he discovers an old enemy, bringing his buried anger back to the surface, even his sister's trust is shaken.
Carols and crime, memories and mystery, doubters and danger – will there be a merry Christmas after all?
Buy in Paperback: 24 Days Before Christmas
Buy for Kindle: 24 Days Before Christmas – ebook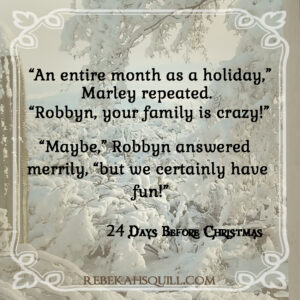 Save
Save