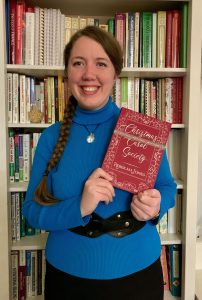 Did you see what went live this weekend? Christmas Carol Society is available in both Kindle and Paperback!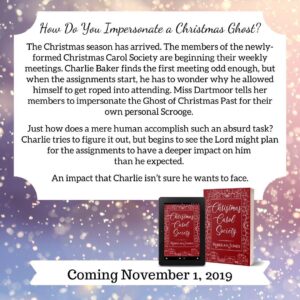 How did this book come about? Let's travel back in time a bit to commence…
December 2013
That year, I spent most of December living with friends. One night, I sat on my bed in my little room, my laptop in front of me as I worked on the final rewrite of Journeys of Four. I hadn't ever been away from home during Christmastime and while I worked, I analyzed what I missed about the traditions I had grown up with.
Toward the top of my list, I missed A Christmas Carol. I had neither book nor film with me. Mixing my thoughts with my work, I grew distracted, saw a white bunny and jumped down a rabbit hole. Which is to say, I stopped working and wrote down a new book idea that I titled Homeschooler's Christmas Carol. Then, because I had a lot of work to do, I went back to work on Journeys of Four.
December 2018
Five years passed. Then, Sarah Holman asked if I wanted to write a novella for A Very Bookish Christmas. The idea sounded fun! I asked for A Christmas Carol and I got it.
It had been years since I even looked at my file, but the idea of spinning A Christmas Carol into a contemporary fiction story with no fantasy and a greater emphasis on the gospel had continued to intrigue me. How should it be done, however?
While December slipped by, January crept in. One afternoon, I made a hungry little person a grilled cheese and the character of Charlie Baker occurred to me. He wasn't quite right – really, I pictured him about fourteen years younger – but I knew I had my starting point. I rushed across the room to write it down.
Possibly ten minutes later, I rushed across the room again, when Charlie grew into a man in my head, followed by the birth of Miss Dartmoor and the Christmas Carol Society. I could see them all so clearly, that I nearly forgot what else I had been doing. Only nearly.
However, by early 2019, if not before, I had begun struggling with my writing. While I still had moments of excitement regarding my stories, I struggled when I actually tried to write them. That didn't stop me from trying, however, and I pushed on with my book, trying to grasp an elusive thread for this story that I knew just dangled beyond my reach.
Then, I went to Oxford, where the LORD allowed me to learn more than I could have expected. On my return, armed with lots of prayer, critiques on my first chapter, and a renewed vision, I began my book again on page 1. The LORD allowed first draft completion of my manuscript in six weeks.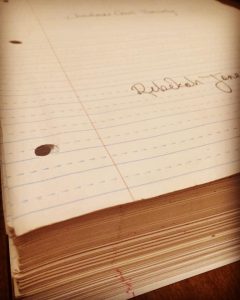 I learned so much with Charlie. I'm still trying to absorb the lessons myself, as I am not fictional, and clearly, not as receptive as he is. I love this book and the characters. I thank the LORD for letting me write it.
I did have a single problem, however. Christmas Carol Society is not a novella. It's a novel. Too long for the collection. The LORD provided there as well by letting me come up with and somehow find the time to write Gingerbread Treasures in a very short time. (Which, LORD willing, will be released with the other stories in the collection later this month!)
The end result is, that after six months of drafting the manuscript, typing it into my computer, letting it rest while I did other things, waiting on edits and readers, and finally doing the final edits and formatting – I get to present you with the completed novel in time for the celebratory season! I never have got over the awe of seeing the LORD allow a story that I wrote, reach the stage of publication!
I hope that my readers will enjoy Christmas Carol Society, will be blessed by the story within, and, ultimately, will be pointed toward the LORD in the reading.
To the KING be all the glory!