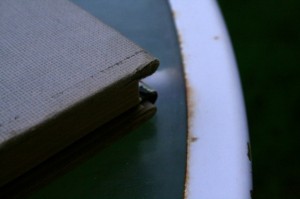 Invisibility is one of those things you hear mentioned in Science Fiction or comic books. It's a superpower or a chemical mistake. Well, I'm here to tell you that invisibility exists. And it's no superpower.
How do I know? Because I've lived it. I have been invisible.
Groups of people (the larger the better!) are a great place for me to practice this skill. Specifically if there are a lot of strangers around or only semi-acquaintances. The easiest happens to be when this meeting is at a house. If I stand to the side, fold my hands, and watch, or sit on the floor near the sofa, motionless, yet watchful, I can maintain my trick. I become almost entirely invisible. People may glance my way, but most likely they won't even make eye contact, or if they do, it's brief and passing.
Outdoors can be more difficult, especially when trying to avoid the awkwardness of partial visibility, but it can also be a great place to get "lost" before drifting out of sight. It depends on the situation. That latter gets easier all the time though.
Sometimes it happens when I remain in the group. I can stand in-between two people, in a small group of 2-7, and no one seems to even know I'm there. Oh, yes, I'm usually quiet when this happens, but there isn't always something I can think of to say. Nor is there always a place in the conversation that I can break into.
I find that this invisibility even translates to the lens of a camera. Somehow, without even striving to avoid it, I can slip out of view of pictures when there are a lot of people. Or become that tiny dot, on the side, half-way hidden by the ten other figures in the picture.
I'm becoming an expert, I tell you. An expert. I can stand to the side, watch everyone else have a grand time conversing and fellow-shipping, and no one will know, because I'm invisible and no one can see me. Unless they're trying really hard.
So, I got to thinking. What is wrong with this picture? And I came up with an answer.
Invisibility isn't a superpower, it isn't a thrilling magic act, it isn't a great gift. And no, I don't set out to see how little I can be noticed. It just sort of happens. And it doesn't always happen either. Just often. Personality wise, I'm shy, which means I either say nothing at all or talk too fast because I'm nervous. Most often it becomes the former. There may be other contributing factors; I don't know. I don't see me very well. I am me. I am always aware of me too, even when others aren't. The problem, however, isn't the invisibility, it's what I do with that invisibility.
What am I best at? Brooding on it. Complaining about it. Hiding deeper in the shadows. I grow simultaneously rather proud and a bit bitter because, well, it's a tad lonely standing there all alone. My own thoughts aren't always the most amiable of companions anyway. And no one, not even those who may care about me most, can always see me at these times. I'm often as invisible to them, as to anyone else. Logic suggests that those people can't attend to me every moment; random emotion suggests bitterness, because they can't or won't see how lonely I am. Then, the pride. Well, what else are you going to do, crouching in that corner by the sofa, all by your lonesome? Bitterness doesn't do very well on its own. Pride though – pride that I can go unnoticed, that I can resist breaking into others' conversations, that I don't go around complaining all the time that no one can see me… Oh dear. Pride goes very well with bitterness. Very well, indeed.
But, is this wholesome? Is it healthy? Is it right?
"Pride goes before destruction, and a haughty spirit before stumbling." Proverbs 16:18
"Let all bitterness and wrath and anger and clamor and slander be put away from you, along with all malice…" Ephesians 4:31
So, as long as I keep up the pride and bitterness, I'm headed on a path to destruction, while disobeying a specific instruction laid out in Scripture. That would suggest that such actions are neither wholesome, healthy, nor right.
Contrary to where my instinct or habits might lie, my focus is all wrong, partly because it's all on myself. I want this or that or the other thing. Or I don't like this or that or the other thing..
"Set your mind on the things above, not on the things that are on earth. For you have died and your life is hidden with Christ in God." Colossians 3:2-3
Focus on the things above, because I have died, and my life is hidden with Christ in God. That is quite a statement. If I have died, there is no room for self focus. Something that is dead and passed away has no cause being the focus of my day.
"Do nothing from selfishness or empty conceit, but with humility of mind regard one another as more important than yourselves; do not merely look out for your own personal interests, but also for the interests of others." Philippians 2:3-4
Then there are these verses, which I can take twofold in my situation.
First, if I am regarding others as more important than myself, there shouldn't be any room for bitterness, just because they didn't seem to notice that I faded into the background, beside the fact that it's not their fault if I haven't said a word in the last 20 minutes or so. That brings me to the second point, outlined in the second half of that verse. Looking out for the interests of others. Looking beyond the interests of myself, and reaching out to others. Becoming a servant, as the continuing verses in Philippians direct.
"Have this attitude in yourselves which was also in Christ Jesus, who, although He existed in the form of God, did not regard equality with God a thing to be grasped, but emptied Himself, taking the form of a bond-servant, and being made in the likeness of men." Philippians 2:5-7
If I have put my focus on things above, died, had my life hidden with Christ in God, begun to regard others as more important than myself, while looking out for their interests and not merely my own, following the example of Christ into servitude… Where will that put me?
I don't imagine that I'll suddenly lose invisibility. But, how might it affect my reaction and attitude? There is no place for bitterness or pride in there. None. To be filled up with the things of the LORD, leaves no room for such low thoughts and behavior. On the contrary, I shouldn't fret at all, but if it still feels like a trial at times, I should remember to "consider it all joy" and if I am acting upon being a servant, then I should be reaching out to others. When I realize that I have become that invisible girl, silent and statuesque in the corner of the room, I can look around and see who may need a helping hand, who else may be feeling invisible, who I might be able to get to know better. No, these opportunities aren't always available; there might be times to be content and wait for an opportunity to show up, but I'm sure they're more readily available than I tend to think.
I know it won't always be easy either. There are times when I would far rather run away, then reach out to anyone around me, often because I don't know them all that well. I'm shy, and sometimes I like to cower behind that label, because it makes me feel safer. It gives me an excuse to maintain my invisibility or refuse to reach out to someone. I'm becoming more and more convinced, however, that this is wrong. In my case, at the very least, to hide behind shyness, is only an outplay of focusing on myself. I need to turn my eyes outward.
I'm sure there are many times of invisibility ahead for me. I'm not sure it's something I can change. I do plan, however, with the LORD's help, to change my response, turn my gaze upward, put others before me, and follow in my Master's footsteps. Sounds easy, doesn't it? I'm quite sure it won't be. He'll help me though; He always does.
To the KING be all the glory!